Gynecomastia
Madrid | Zurich
Excess breast tissue in men, known as gynecomastia, might be cause of psychological distress and pain; patients may worry they have a feminine looking chest. The abnormal growth of the male breast may be caused by a glandular disorder (gynecomastia vera) or by excess fat accumulation behind the nipple (pseudo-gynecomastia). Surgical gynecomastia correction removes the hardened tissue behind the nipple and alleviates pain, all while reshaping the area's contour, defining a more masculine and symmetric chest.
Gynecomastia causes and diagnosis
The most common cause of gynecomastia is idiopathic, meaning there are no concrete medical reasons to explain the disorder. In some other cases, gynecomastia is related to endocrinological disorders, substantial weight fluctuations, excessive addictive substances consumption, certain drugs or sustained anabolic intake. The patient will be diagnosed using sonography and will have an endocrinological test done. True gynecomastia is diagnosed if a mammary gland disorder is found, or a pseudo-gynecomastia if caused by accumulated excess fat.
To learn more about our gynecomastia procedures, see our Instagram posts
Surgical techniques and scars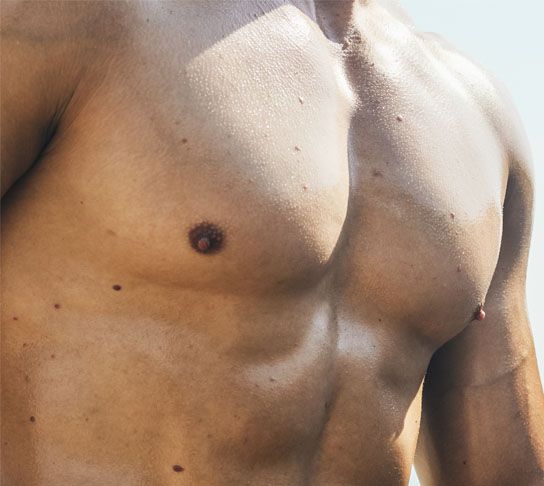 A glandular tissue excision behind the nipple, via an incision below the areola, is the most habitual procedure. The scar has a demi-spheric shape in the areola's hyperpigmented area and is almost totally invisible.
Liposuction is usually performed as a complementary procedure to sculpt a more balanced and symmetrical chest contour. Results will be further enhanced by the retraction of the skin after the intervention. Pseudo-gynecomastia can be treated with liposuction without the need for an open excision.
A periareolar mastopexy removes the excess skin around the nipple area. The reconstructed nipple is positioned to fit its natural location, reducing its size and shaping it in an oval for a more masculine look. Scars are almost invisible between the hyperpigmented circle and the skin around it.
To learn more about our gynecomastia procedures, see our Facebook posts
Before and after, real cases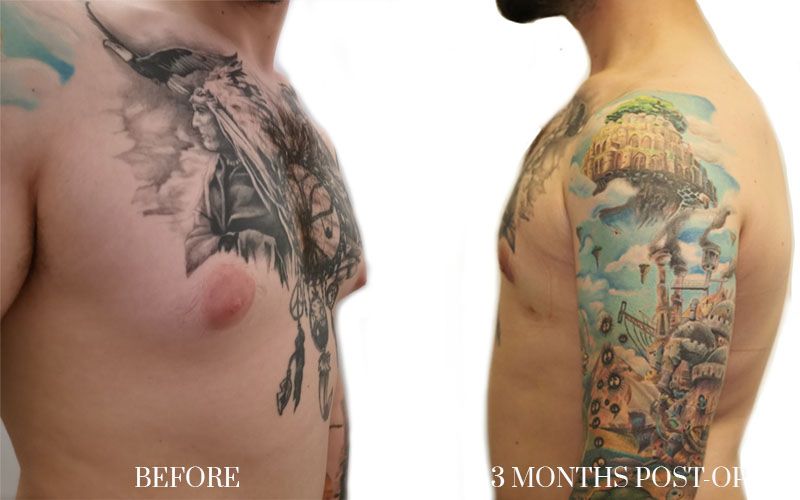 Send us your enquiry and we will deal with it as promptly as possible
Responsible: OCEAN CLINIC MADRID S.L.P
Purpose: To be able to attend and manage the different orders, requests, queries and resolution of user doubts, as well as to be able to carry out statistical studies that help to improve the operation of the website and to inform in a timely manner.
Legitimation: Consent of the interested party.
Recipients: No data will be communicated to third parties, except legal obligation. The information is treated with the utmost confidentiality, being hosted on a secure server. Your email address will be used only to respond to your queries made through the forms on the website, as well as to inform you of news.
Rights: You have the right to access, rectify and delete your data, rights that you can exercise by sending an email to madrid@oceanclinic.net.
You can consult the additional and detailed information on data protection in our privacy policy.
ZURICH

Limmatquai 2
8001 Zurich Switzerland
Calle Velázquez 109 1º Izquierda Madrid Spain
+34 91 056 79 33
madrid@drrichardfakin.com
Limmatquai 2 CH 8001 Zurich Switzerland
+41 78 206 44 88
zurich@drrichardfakin.com