Breast Fat Grafting
Madrid | Zurich
Fat Grafting and Lipotransfer are innovative procedures that have totally transformed Breast Augmentation techniques. Among its advantages, we find the option of not using gel silicone implants, thus obtaining more natural looking results.
Our patients' satisfaction is constantly growing. Our use of avant-garde technology maximises the fat transferred cell's life span, allowing for a minimised reabsorption, and thus better results. In addition, once the transferred fat gets incorporated into the breast its longevity is indefinite.
How is breast lipotransfer done?
In the first place, fat is harvested through liposuction from one part of the body and then transferred to the breasts. Therefore, at the same time, excess fat in the body areas such as abdomen, legs or hips can be removed using a high definition liposuction, helping achieve a better-looking body contour.
Collected fat is then treated and purified using the appropriate technology. Thus, obtaining a high-quality graft, with minimal fat reabsorption, increasing its durability as a result.
Fat is transferred using very thin cannulas, leaving no marks whatsoever in the breast area. This area is predetermined by a patient and a surgeon during the pre-surgery consultation.
To learn more about our Fat Grafting procedures, see our Instagram posts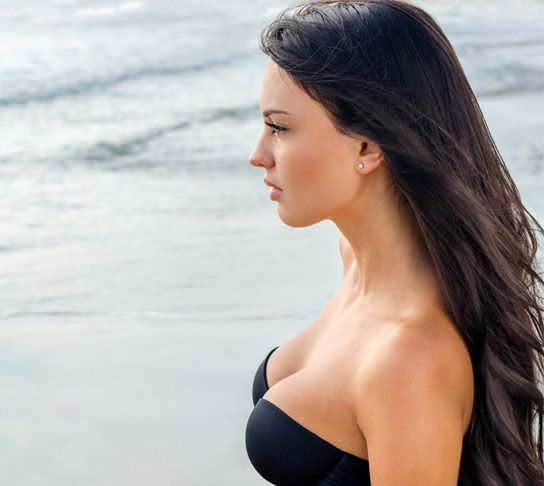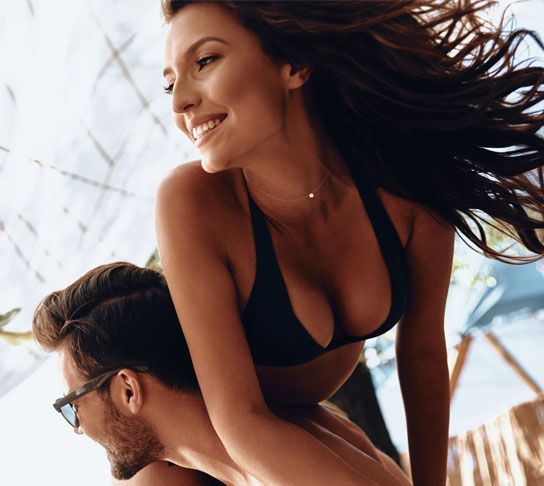 How long will it take to recover from a Breast Lipofilling?
Once the graft has been placed, the resulting size and shape are long lasting, with no migration risk.
Once the desired breast size and shape is achieved, we will provide our patients a special type of bra, which they will need to use for 6 weeks. During this period no pressure should be applied to the breasts.
To learn more about our Fat Grafting procedures, see our Facebook posts
What are Breast Fat Grafting advantages and its additional alternatives?
Its main advantage is to increase the breasts size and/or optimise their shape using the patient's own tissue. Thus, preventing the need to implant a foreign body. Additionally, this intervention can be combined with Breast Augmentation using implants, resulting in a natural look and feel.
This intervention can be done as a secondary surgery after a Breast Enlargement, to optimise shape, size and rippling.
The additional procedure to a Fat Transfer Breast Augmentation, is a Breast Enlargement Surgery using implants.
To learn more about our Breast Fat Grafting procedures, see our Instagram posts
Before and after, real cases
Envianos tus dudas y serán atendidas en el menor tiempo posible
Responsable: OCEAN CLINIC MADRID S.L.P
Finalidad: Poder atender y gestionar los diferentes pedidos, solicitudes, consultas y resolución de dudas de los usuarios, así como poder realizar estudios estadísticos que ayuden a mejorar el funcionamiento de la página web y a informar de forma puntual.
Legitimación: Consentimiento del interesado.
Destinatarios: No se comunicarán datos a terceros, salvo obligación legal. La información es tratada con la máxima confidencialidad, siendo alojados en un servidor seguro. Tu dirección de correo electrónico se utilizará únicamente para dar respuesta a sus consultas realizadas a través de los formularios existentes en el sitio web, así como para informarle de las novedades.
Derechos: Tienes derecho a acceder, rectificar y suprimir tus datos, derechos que puedes ejercer enviando un correo electrónico a madrid@oceanclinic.net.
Puedes consultar la información adicional y detallada sobre protección de datos en nuestra política de privacidad.
ZURICH

Limmatquai 2
8001 Zurich Suiza
Conoce nuestras ubicaciones
Calle Velázquez 109 1º Izquierda Madrid España
+34 91 056 79 33
madrid@drrichardfakin.com
Limmatquai 2 CH 8001 Zurich Suiza
+41 78 206 44 88
zurich@drrichardfakin.com